PRODUCT LINE
PRODUCT
Professional Model

4 axis motion

3D Floating Full-Motion Technology Frame
Alcantara Oval Steering
Kick Back BODY SONIC
Hi Spec. Simulation Computer
Rack case
Wireless Mouse + Key Board
VR Headset
Reclining seat
Direct Steering Servo System
Hydraulic type Racing 3pedal
Sound System
49 Inch Wide Monitor
Single Monitor Frame
7 Speed Manual Shifter

¥ 4,980,000(TAX OUT)

※Transport fee will be required separately

Installation space:D79in✕W36in✕H52in
Gross weight:570lb(T3R:400lb /Monitor:80lb/ PC BOX:90lb)

ENTRY MODEL

2 axis motion

3D Floating Full-Motion Technology Frame
FANATEC Alcantara oval steering
Hi Spec. Simulation Computer
Rack case
Wireless Mouse + Key Board
VR Headset
Reclining seat
FANATEC Wheel Base Servo
FANATEC Three Pedals With Vibration Feedback
40 Inch Monitor
Single Monitor Frame

※Please also consult the original frame design

¥ 3,200,000(TAX OUT) 〜

※Transport fee will be required separately

Installation space:D85in✕W35in✕H48in
Gross weight:460lb(T3R:290lb/Monitor:80lb/ PC BOX:90lb)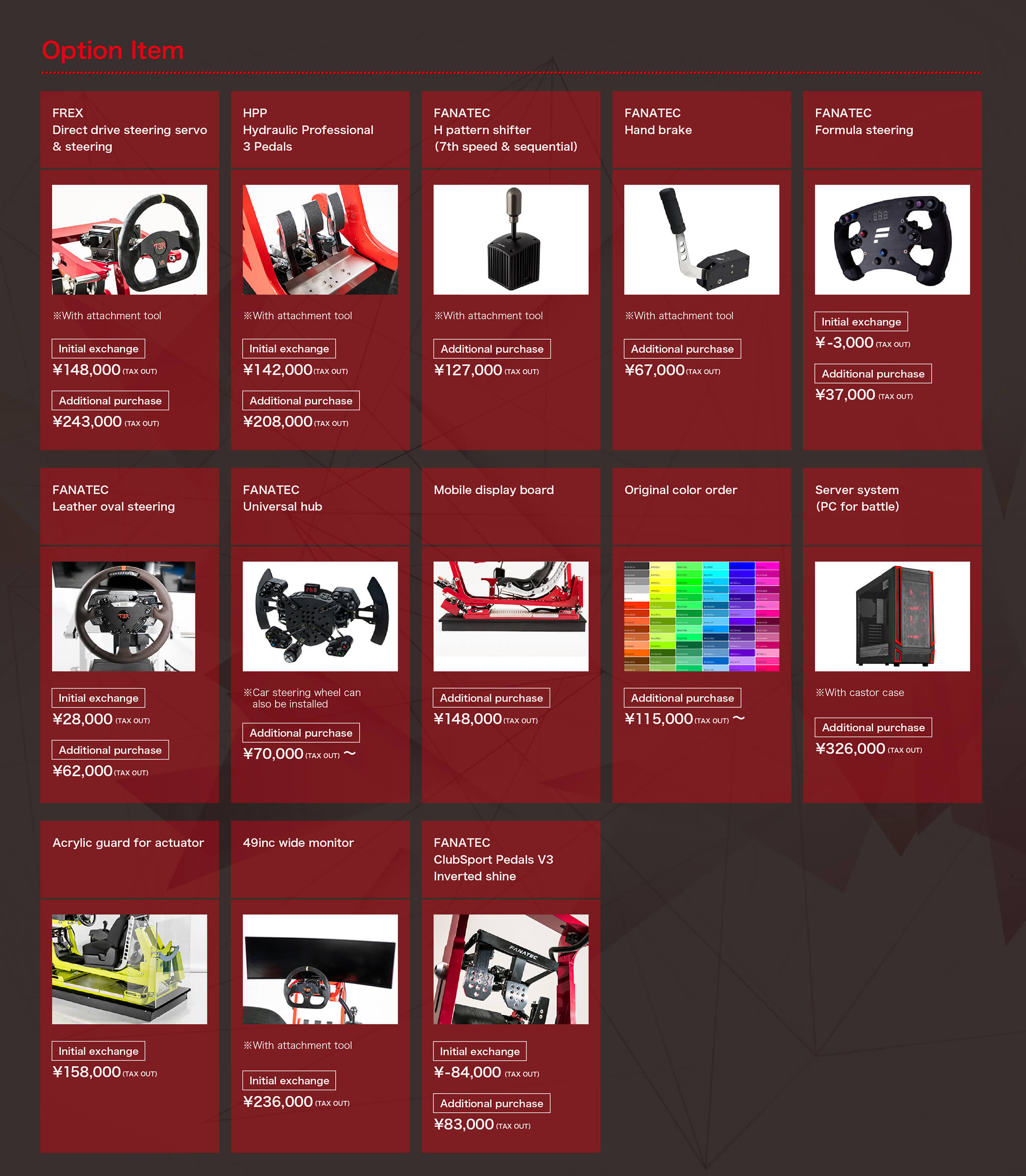 Note: The system is running with specification as of April 2018. Parts, design and system modifications are expected.
Please ask for more information.
OPTION.1

Support Service

Quality assurance for 3 years.
1 month ¥ 7,800
( × 36 months = ¥ 280,800 )(TAX OUT)
※It becomes online correspondence.
In the case of repair and adjustment at the site,
we may pay transportation fee separately.
OPTION.2

license
Asetto Corsa Standard license

¥ 200,000 (TAX OUT)
※Not customizable

Asetto Corsa Premium license

¥ 500,000 (TAX OUT)
※Customizable
RENTAL
RENTAL

Professional Model Complete Set

198,000 JPY(excluding tax) per day, per vehicle, including 1 instructor

Add 1 day +120,000YEN( Transportation fee + operating expenses included)
Add 1 unit+198,000YEN( Transportation fee + operating expenses not included)

※The instructor is support only. If we undertake event operation and management, the operation fee is 100,000 yen per day.
※Transportation expenses and installation expenses are added to the rental expenses.
※The same is true for multiple units.